A new model is added to the CZ SCORPION EVO 3 Pistol Caliber Carbine series with the introduction of the extremely compact CZ SCORPION EVO 3 S2 MICRO chambered in the proven 9 × 19 caliber.
A direct descendant of the highly successful sub gun of the same name, the semi-automatic CZ SCORPION EVO 3 series has been on the market since 2011. CZ has gradually added various models to the range over the years, which were a direct result of customer demand and the wealth of experience gained from its extensive use around the world.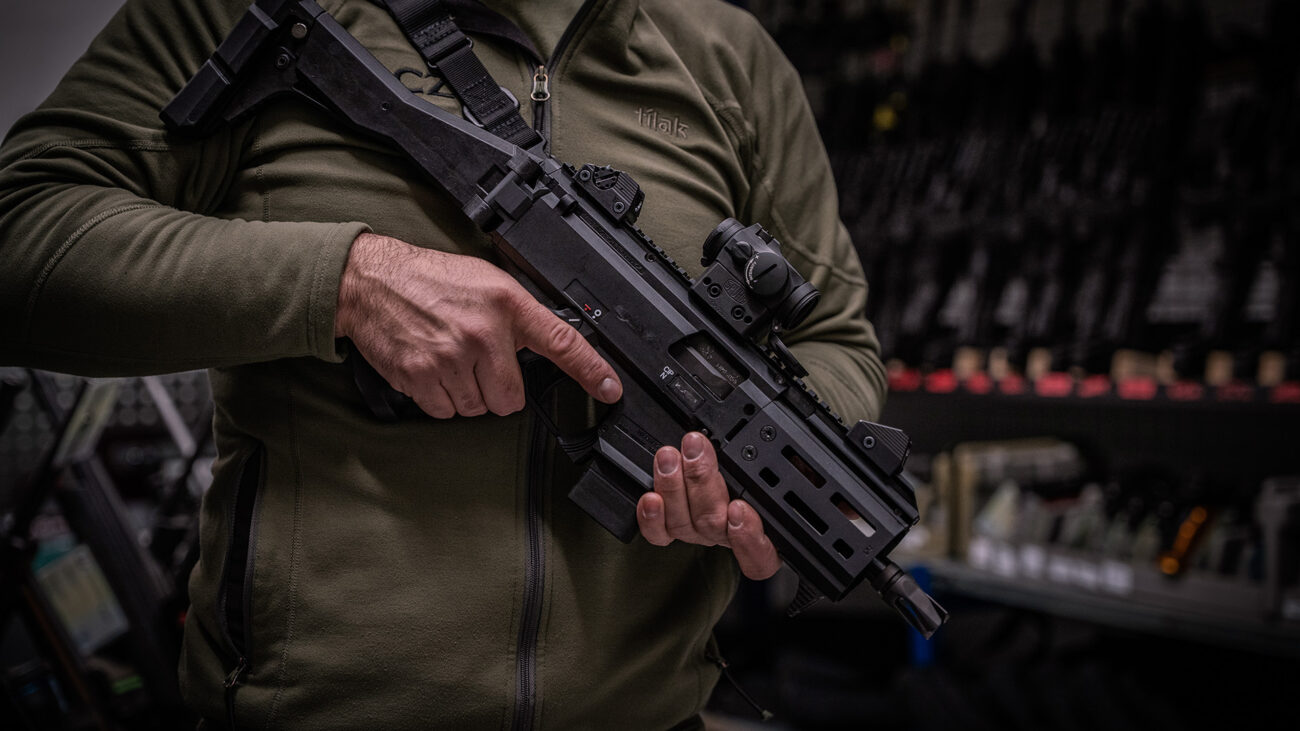 One direction in the expansion of the range was extension of the barrel and forend for CARBINE models. The other was minimization of dimensions, while maintaining comfort, safe handling, high performance and accuracy as much as possible. It is this direction where the new CZ SCORPION EVO 3 S2 MICRO excels.
Its main feature is a 140 mm (5.5″) barrel fitted with a spiral three-arm flash hider. By comparison, the barrel on a CZ SHADOW 2 pistol is 120 mm. Despite having a much shorter length than barrels on other CZ SCORPION EVO 3 models, users of the CZ SCORPION EVO 3 S2 MICRO are still able to take full advantage of the performance and accuracy provided by the proven 9 × 19 cartridge. The new flash hider, whose design is based on the flash hider fitted on the CZ BREN 2 rifle, contributes to enhanced shooting comfort.
The CZ SCORPION EVO 3 S2 MICRO is equipped with a short forend made of highly durable aluminum alloy, with a generous amount of M-LOK mounting interfaces. For a secure and reliable grip, the firearm comes with a hand guard on the lower section of the forend. As with all models in the CZ SCORPION EVO 3 series, a long Picatinny rail, primarily designed for mounting optics, comes standard on this ultra-compact model.
The new CZ SCORPION EVO 3 S2 MICRO is available in two versions: one with a folding/telescopic shoulder stock with a QD socket for attaching a quick-release loop, and the other featuring an upper receiver extension with a sling loop.
Main features of the CZ SCORPION EVO 3 S2 MICRO:
The same ergonomics and placement of controls as the CZ SCORPION EVO 3 S1
Ambidextrous manual safety
Adjustable, non-reciprocal charging handle
Upper receiver and trigger housing made of highly durable fiberglass-reinforced polymer
Picatinny mounting interface on the upper receiver
Duralumin forend with M-LOK and Picatinny mounting interfaces
140 mm (5,5") barrel with spiral three-arm flash hider
Adjustable diopter sight
Folding/Telescopic shoulder stock with QD socket
Upper receiver extension with sling loop
10 round magazine identical to what comes with the CZ SCORPION EVO 3 S1
Source: CZ news release